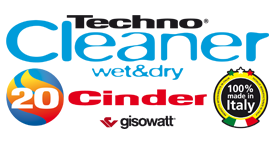 Indispensable for cleaning fireplaces,
pellet stoves, wood-fired boilers, BBQs,
the perfect answer, strong and practical to use.
Its self-extinguishing hose ensures suction
of cold and warm ashes (up to 50°C), in total safety. Lightweight and compact, equipped
with a resistant fibre bag, easily and quickly
remouvable once full. Thanks its flexibility
and ease of use, it can safely be employed
as a wet&dry vacuum cleaner
for the remaining months of the year.